Beaches Resort Turks and Caicos Review
We recently got back from a big family vacation to Beaches Resort in Turks and Caicos. As you may know from my previous articles, we love to travel. We aim for one big family vacation per year and this year we had our hearts set on the beautiful island of Turks and Caicos. With one of the top-rated beaches in the world, this has been a destination that we have been considering for some time and finally decided to bite the bullet. A lot goes into my decisions on where we should go. It had a heftier price tag than our past vacations, but Beaches is the only resort we were personally considering on the island since they were not only highly rated but Autism Certified as well (a big plus that we make sure to look for). Beaches also has characters on site, which my children are still at the age to appreciate, so that was a plus too. Travel with young kids (and kids on the spectrum) has never been a cake walk. As a mom who has both and who has traveled to other places to have a good comparison, I'm going to give you my perspective and albeit, somewhat long list of what you need to know if you are considering a trip to the Beaches Turks and Caicos Resort.
The Beach
Obviously the number one reason why people travel to this island, and deservingly so. The beach is spectacular. White sand and some of the clearest and most beautiful water I have ever seen. Beaches put out nice yellow floats out on the water, open on a first-come first-serve basis that my kids really enjoyed. Beach chairs were a bit limited, at least the ones with shade, although down near the jerk shack you can find some trees to help a bit with the shade problem. If you are picky on chairs, I would advise you plan accordingly by going out very early to get a spot.
Beach Buddy
For the parent of an autistic child, if anything would bring me back to this resort, it would be the "Beach Buddy" service that is offered. So, for those unfamiliar with this service, beyond the regular kid's camp, they also offer Nanny services and what they call a "Beach Buddy" (both at additional cost). The Beach Buddy service is a request you can make through the kid's club to hire a one-on-one helper to assist your child with disabilities. Even though we have always traveled with additional family (extra hands) for help, I was very interested in giving this a try. You know I'm always way on top of this kind of stuff before travel, so I emailed and was able to complete the paperwork right after we booked the trip. About 30 days before our travel, they reached out to go over everything. They reserved us a beach buddy, her name was Jody, and we were able to reserve her for any day of our stay for as long as we requested. We aimed ahead of time to utilize her just a couple of hours mid-day at the waterpark to give us a bit of a break. My son loves water slides and so she really got her workout as they pretty much did this the whole time. She was amazing and we found ourselves booking her for a few extra hours than originally planned as the week went on. I'm happy we booked her early, because I had multiple people seeing how great she was with my kids, and asking how they could hire her or someone like her to help them too. Nannies can be hired for multiple kids, but beach buddies are set to be reserved for one child only and I was told I would have to hire someone separate if I needed help with my other children. But my other kids really took to her too and she spent some time playing with them as well. Our group always just stayed close by so this was easy to do. Honestly, this whole program was a huge game changer! Giving this mom and dad a short break mid-day really helped us enjoy our trip.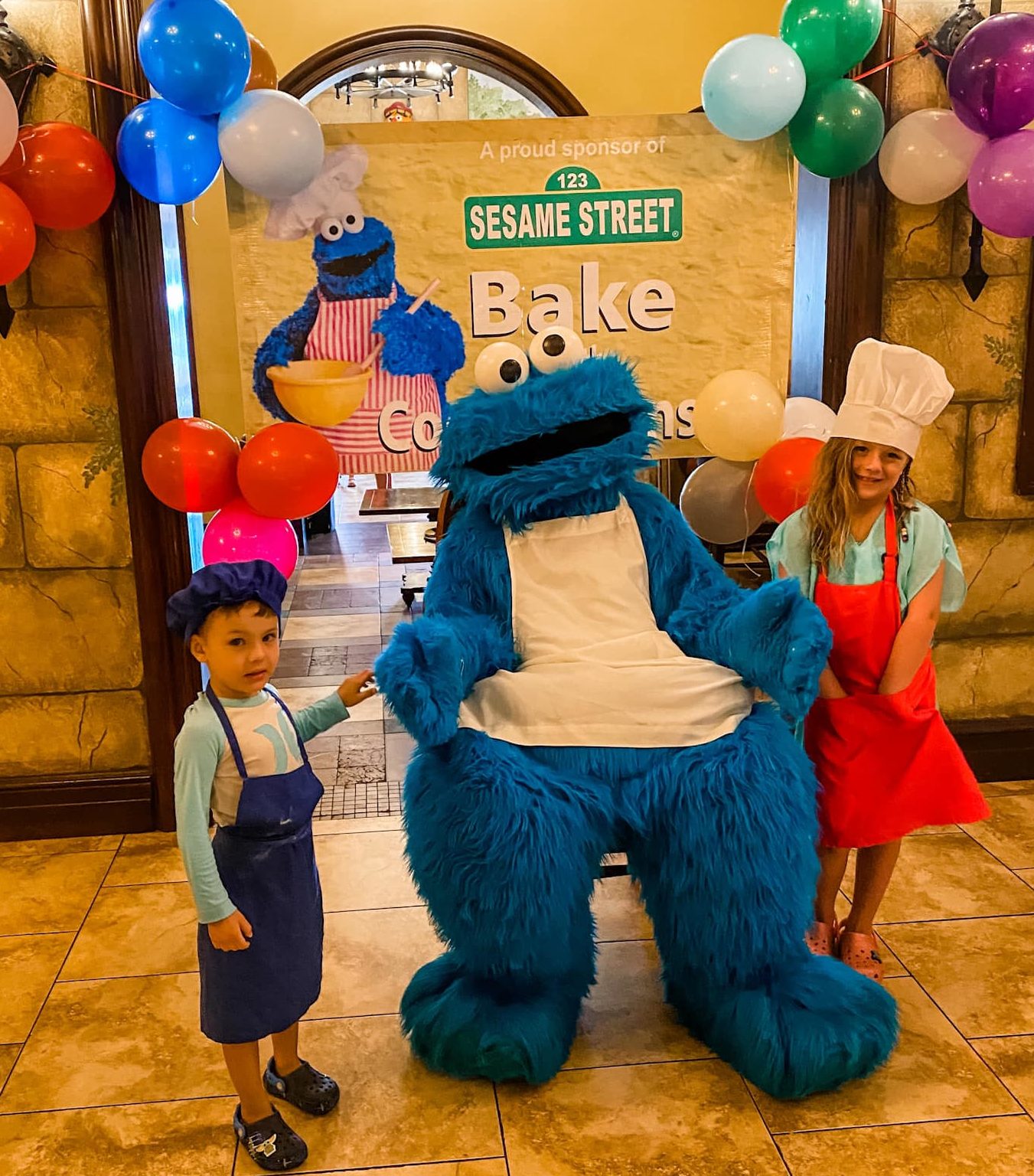 Kids Club
Their kid's camp is highly rated and boasts their autism training and certification right on their website. I'll be honest, we have never been big utilizers of the kids' clubs. Occasionally my daughter may pop in for a short craft time, but overall, I never thought it would be something that my boys would be interested in. I will say that this kids club did go beyond most I've seen and would take the kids to various places such as the pool and even the water park. The camp is open early in the morning, breaks from 4-6pm and then opens back up, and will keep the kids until 9:00 and even take them to dinner. They do require the children to wear masks when indoors (which you may know that my boys cannot do), but they did allow me to put a copy of their mask's exemptions on file just in case we decided to have them join in. Other than a short visit one afternoon per my daughter's request, we didn't get a very good look at the program ourselves. Also, I am not sure if they would have accommodated my older son without us paying for someone additional to assist him in the kid's camp. All the more reason why the beach buddy alone was a better fit for us.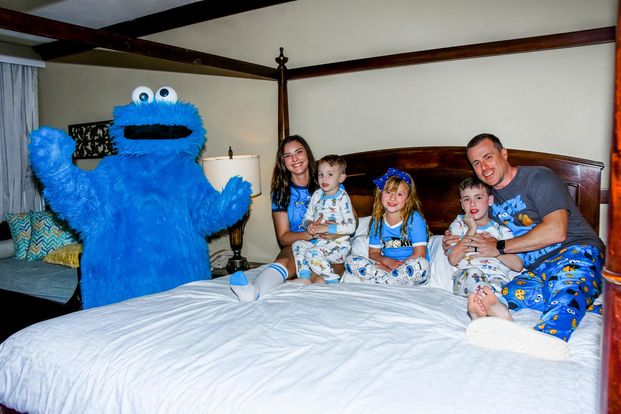 Characters
The characters were not as easily accessible as other resorts that we have been to. This sounds like a new covid thing based on my conversations with other guests who had stayed pre-covid. Also, a downside of covid policy is you are not supposed to touch or hug the characters, which is not an easy thing for young kids or kids on the spectrum to always understand. You can see characters still through booked and pre-planned activities. We scheduled a character breakfast which allowed my kids to see a lot of them. My two youngest attended a cookie baking session with cookie monster, and the best (and my most recommended) character activity was a character tuck in. For the tuck in, you pick the character and a time for them to come to your room. The character and helper meet the kids, read them a story, and play a game of hide and seek. The helper we had was fantastic and the experience was one of my favorites on the resort. The kids all walked away with a nice stuffed animal souvenirs previously chosen by their mom as well.
Water Park and Pools
Making sure that the resort has a water park or at least a few slides is pretty much a requirement that I have at this point. There are lots of resorts that offer them and my three little fishes really just enjoy them so much it is hard for me to consider a place that doesn't offer them. The water park was nice. Layout can be a little tricky in some parts if you are traveling with a stroller, but we managed pretty well. The water park had access to Bobby Dee's for food and snacks, a smoothie and ice cream bar, and the "Mr. Mac" Mac and Cheese truck. We visited all the pools outside of the water park as well which were all very nice and were heated to some extent, good for the cold-blooded people like me. We are not big drinkers but the water park was a "dry" area so you would have a bit of a walk if you wanted an alcoholic beverage while there.
Excursion
I joined a Facebook group for the site before the trip to try and get additional information before we went. Through the group it seemed like everyone raved about the "kitty kat" catamaran half day cruise offered by beaches. This excursion looked like a lot of fun, but also a bit crowded for my son. We decided to book a private boat through Caicos Dream Tours to take us to all the same locations, but without all the extra people. We went with one of their basic boat options and it still had a slide. We went snorkeling, visited iguana island, half-moon cay, and shell island, and then finished the half day out with some tubing off the boat as well. It was a great way to get to do all the same things but without the stress of a crowd.
Restaurants
The food was good for me, I had a lot of really good meals. I'm far from a foodie, and honestly, I am just happy to have a place that offers me decent food, without a long wait, and with food options my sensory sensitive boys will accept. We only really consider All-inclusive options for vacations at this point, so we know sometimes you are sacrificing a bit of quality for a huge amount of convenience, and I'm more than ok with that. Food is definitely plentiful around the resort, and having a party of 9 granted us a unique ability to be able to make reservations at more than just Kimono's like most people can get. There were a couple of places such as Kimono's which were able to get us food off menu for my picky eaters, but other than them most people were not able to accommodate, leaving us requiring an extra venture out to Bobby Dees to get the boys some food. I dream of the day when finding food my boys will willingly eat is not such a task, and believe me we work hard in improving this area at home, but vacation is not a place I choose to push the issue. Having viable kid food options at all the non "adult only" restaurants would have been a lot easier for my crew and was definitely a big downside for us.
Service
This is where I have to give them a big hit on their ratings. I feel like I am an easy-going person when it comes to expectations, but the attitude of most of the people that worked there was noticeably bad. I'd say it was easily a majority of employees that just seemed unhappy to be there. I've been to other islands but the idea of "island time" is a whole other level as there is nothing close to a hurry to get a request either. And no waiters in site. Maybe this is how they rope people into the butler rooms, but that price tag was out of my comfort zone. And honestly, you should still be granted at least decent service without having to get a butler. This resort is supposed to have a no-tipping policy for most employees other than a few outliers such as spa and butler services, not sure how strict this is enforced but I do feel like not tipping (as per the resorts policy) greatly impacted the service we had received versus any other resort that we have been too.
So obviously we came for the beach, but in the end did the resort live up to all the hype? Or the price? My reviews are a bit mixed on that. In regards to the autism certification, I'll give it to them that the beach buddy option was a huge bonus! For families of kids with special needs who can't just use any old kids club, and don't have the ability to bring additional help along, this could be a huge game changer in your family vacation. Beyond the beach buddy, everyone was nice but I didn't see a real difference in treatment or accommodations than we have received at other resorts. I know that the island in general is one of the more expensive Caribbean islands so it is not always easy to compare apples to apples when looking at other destinations. So, if you have your heart set on Turks and Caicos, this is probably the winner. But if you are flexible and open to other islands, I'd say for the price tag that comes with even the standard rooms, the service was far too lacking for the cost in my opinion. I have been to other places that could deliver the same, and maybe even a bit more, at a fraction of the price.