If you haven't already caught on, we tend to be an "always on the go" type of family. We love traveling to try new things, but we also find that there are a lot of great fun places not too far from home worth venturing to as well. Not to mention that all my children seem to be small adrenaline junkies, meaning that if we find a thrilling activity it is just that much more of a win. Well, we recently came across a new family favorite at a place called iFly.
If you haven't heard of iFly before, it is essentially simulated sky diving in a big tube (without the need to jump out of or off of anything). Basically, you enter the tube through a door and a large and very powerful fan allows you to "fly". Similar to actual sky diving, your first few flights are required to be done with an instructor to help teach you what to do and to make sure that you stay safe the entire time.
Our first trip to iFly actually took place for my daughters "birthday-day-out" a few months back. I knew it was something my boys would be interested in too, but I wasn't sure that the experience could accommodate them. So, visiting with just my daughter was a great trial run to check out the whole process.  I will admit that at first glance I would have guessed that this experience may have been too involved for my boys to handle. There was a required training video with many instructions that had to be followed on what to do, and what not to do, when in the wind tunnel. But then I spotted a big sign on the wall that said, "All Abilities Night". So, I made a point to ask about any age or weight/height requirements for kids, and if they work with kids who have special needs.
I was told that anyone three years old and up can participate, there is an upper weight limit but wasn't relevant for our family, and that they work with kids with disabilities often. I will admit that I do not know the full extent of disabilities that they are able to accommodate but from talking with them about my boys being on the spectrum and how they may not be able to understand all the rules and cues, she confirmed that my boys would absolutely be able to fly. So, we bought tickets to bring back the whole family.
The initial check in process was a bit hectic. Just trying to corral all three kids while filling out the waivers, getting everyone weighed and wrist bands in place, but as usual, we brought along some extra hands to help with the waiting parts. Not too long after we headed in for the instructional video. We were in a group with some other people as well, so we did our best to keep our boys quiet so as to not disturb the other first-time flyers. My boys definitely seemed excited after seeing what they would be doing but didn't understand the hand signals or other directions laid out, so I made sure to talk with the instructor about my boys as well.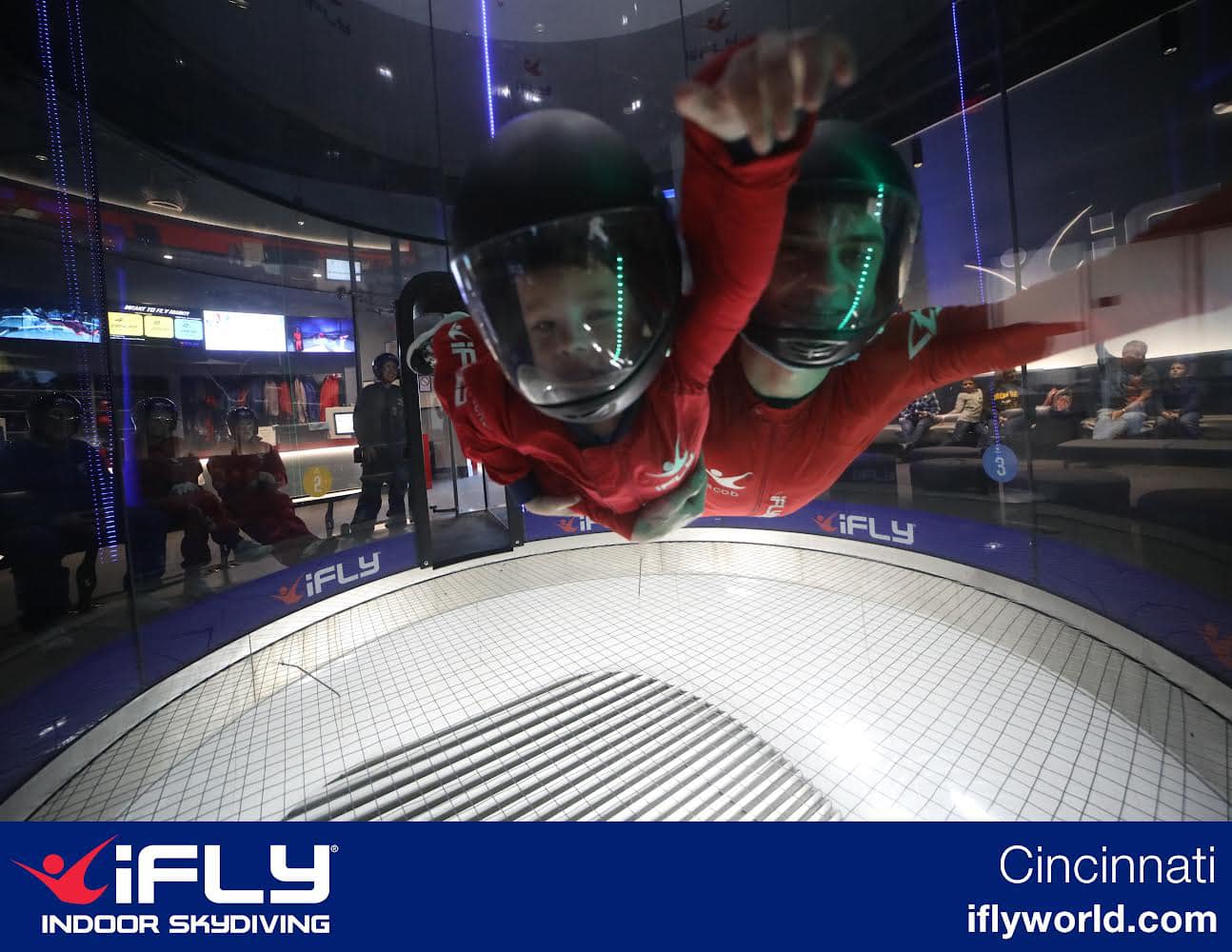 Both instructors that we met through iFly were so kind, patient, and understanding with our children. We allowed him to help us get the ear plugs in their ears (Damion ended up not wearing his but that was ok). He sized them in full helmets with face shields (I would definitely request these for your kiddos if you can as they are much easier to deal with all the air in the tube than if you have just the helmets with separate eye covers). We did an upgrade to purchase a "high flight" for each of the kids as well which we made sure he would be able to do with the boys.
Damion did surprisingly better than expected! Although he couldn't follow the hand signal instructions, he just seemed to have a good natural form for flying, which allowed the instructor to even let go from time to time. Drew seemed a little more timid in the tunnel, with a death grip on the instructors one arm and kicking his legs like he was trying to swim in the air (exactly what we were instructed not to do). But even so, the instructor just held onto him and moved him around so he could experience it all. We were a little worried that the "high flight" for Drew may not work, as the instructor was nearly unable to pry Drew's hand from his one arm to get in position. But he eventually made do and was able to get set and do a high flight with Drew as well. I was a little worried that based on how Drew moved around in the tunnel that maybe he didn't like it, but I found out that wasn't really the case as he still to this day continues to ask when we will go back and "fly" again.
All in all, an experience that I HIGHLY recommend! I truly can't say enough good things about this place. Finding somewhere that is so accommodating and so kind for something this high thrill is rare in my experience. Quick tip: Buying tickets at the counter after a flight always comes with a BIG discount and with no expiration, so we made sure to stock up for our next anticipated trip to iFly. Definitely a great experience for all your little thrill seekers, both on and off the spectrum.