Nickelodeon Resort Punta Cana Review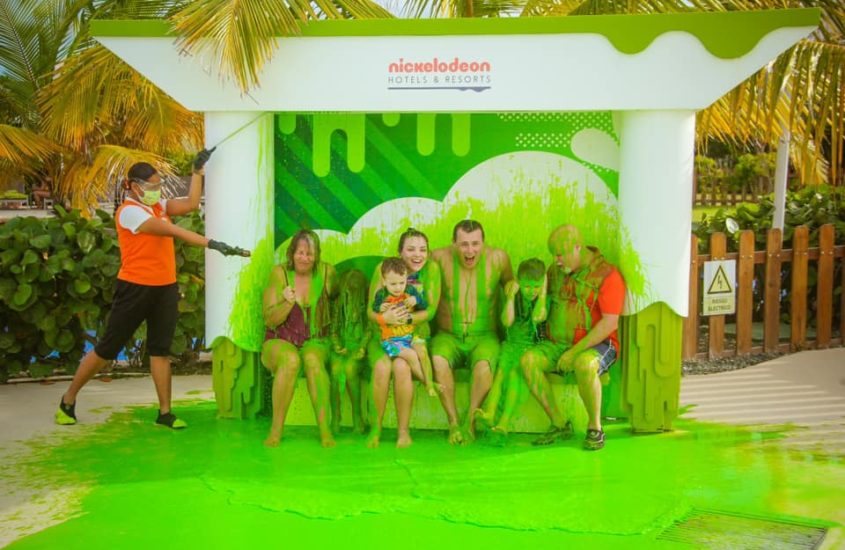 Have I said I love to travel? Well, if you didn't get that from my other blogs or posts, I do! We aim to take a "big" family vacation at least once per year and we have been fortunate to do so every year since my oldest son was born. Most people are surprised to hear that we are willing to travel so far with our WHOLE crew, but I just tell them that it is a good kind of torture that I actually look forward to. The memories you build as your children ask you how much longer until we get there, and their constant fighting with one another are truly irreplaceable memories.  But seriously, traveling with your young kids (and a child with ASD) can be fun if you know how to do it right, and I really do look forward to it. I have many basic travel tips that I follow for traveling with our autistic child (click here to check those out) although many of them probably could pertain to anyone traveling with small children in general. For our 2021 travel adventure, we decided to try somewhere we had never been, the Nickelodeon resort in Punta Cana, Dominican Republic.
Our original plans were to do a Disney trip every other year, potentially visiting different parks each time around, and we were due for that visit this year, but with Disney's Covid restrictions, a visit to their facilities would not be possible for us right now due to my son's difficulty tolerating masks. I hated the idea of missing the "character" aspect of things because my children are at the prime age for enjoying that, so in my search for other similar facilities that may be more accommodating to our situation, I found the Nickelodeon resort.
The Nickelodeon resort is autism certified and after reaching out I was able to confirm that they could accommodate us without any issues. The flight was quite a nightmare of an adventure in and of itself (check out my story on Delta's clearance to fly program here for more details). Our trip was in mid-January 2021, so we just missed the mark for required Covid testing to re-enter the USA, which means unfortunately I have no information on that process. All in all, I have to rate this resort as the BEST one that we have EVER been to as a family and my reasoning for this outstanding review falls under these 5 key aspects:
No Crowds
Now, credit obviously cannot be fully given to the resort for this, as I'm sure they would have preferred to be busier, but with a global pandemic still lingering, not many people were traveling. The hotel was at about 20% capacity during our stay. There were very little to no lines for anything, reservations were only required for one restaurant, and there was your pick of chairs or seating at the beach and pool. Hard to beat feeling like you had practically an entire resort to yourself!
2.Friendliest staff
The staff was beyond amazing in all aspects. They were prompt, friendly, and great with kids. Our concierge gave us his cell number to text him for anything we needed and told us to treat him like our personal butler. The resort is big and a bit spread out so they offer golf cart transport; The person driving us in a golf cart from one end of the park to the other would have my son be his "co-pilot" and would pretend the whole trip was like a roller coaster ride. The lifeguards actually played with our children and helped us keep an eye on all of them at the water park. Because of this perk I was able to sit more on this vacation than I ever had in the past, which meant I may have gained 5 lbs. as I sat and drank my daiquiri, watching my kids be playfully entertained, but as a mom of 3 getting a chance to relax in the sun feels like a luxury event.  We ended up even throwing some tips there way too because they were so well deserved. The lifeguard at the beach told us it was ok if my son wanted to walk up the steps on his watch tower (my son has a stimming thing when it comes to steps that helps calm him). The waitstaff learned all of our favorites and kept them coming without even a request. There was even one point that a bartender saw my husband walking by to get to a beach chair and he held out a beer to him as we walked pass the bar! We always tip well, but I almost didn't feel like we didn't have enough for all these wonderful people.
3.Characters
What can you say? There is a reason why places that have characters you can meet are so popular for families. Kids love seeing their favorite characters in shows and get to meet them and take pictures. It just adds a bit more magic for most kids, mine included. The Karisma app is great. It tells you what time characters are going to be around as well as what other activities will be going on for the day. The character breakfasts are a great way to see and meet a bunch of characters in one place (they do offer two different character breakfasts one with just Ninja turtles and the other with the rest of the nickelodeon gang so be aware for you are hoping for one over the other).
4.The Sliming
Growing up as a kid in the 90s, getting slimed always seemed like the coolest thing ever! Well, my dream finally came true as a 30-year-old and as an extra perk, my kids loved it too. Well, except for maybe my youngest who doesn't like getting his face wet but still powered through. Damion (my son on the spectrum) thought that sliming was the funniest thing ever. My kids don't know any Spanish, but it didn't take him long to learn how to count down from 5 in another language if it meant he got to be or see someone getting slimed. We actually ended up letting the kids get it done twice, and even after that he still tried sneaking in with a couple other families to go again. Right now, they only offer a private sliming so it is at an additional cost but for us it was well worth the money.
5.The Details
Those extra details that take a place from being just ok to really great, this place had. The place is designed for families with kids, so everything offered has that in mind. Want to get a spa treatment done? They have options to take the kids. Want to eat out at a nice restaurant? They offer kid options (even if they are not on the menu). So, you can still give them their basic chicken nuggets and French fries without sacrificing your dining options as well (P.S. make sure you try the Machete burger at BRGRS.PH and the Inner Core desert at Spacewalker).  If you are on a restrictive diet, as many parents with kiddos on the spectrum are, they do offer gluten and casein free options at all the restaurants as well. In the room, they had safety gate options on the doors to the patios accessing your private pool or swim-up areas. Personally, we chose to do a plunge pool suite instead of a swim-up just because I had concerns of my son swimming too far down from our room. The rooms have bath tubs and not just showers (this can be a huge plus with young kids). Their décor around everything was fun and kid like too. From the themed restaurants, to fun kid like etchings on the bathroom divide in your room, it just felt like they thought of everything.  Even if you don't stay at the pineapple house (a bit out of our budget) you can still walk by, see it, and snap a photo in front of it. There is even a small man hole near a walkway that has TMNT on top and if you step on it, you can hear your favorite turtles chatting beneath. Details just took it over the top for us.
As you can see, I am in love with this place and just can't wait to go back again. I'm hopeful that even when capacity does pick back up, all the same greatness will still be there to make me love it just as much as I did this time around. They do have another location set to open up this June in the Riviera Mya as well, which looks to have a water park that may cater a bit more to the older children. Hopefully one day I will get to do a review there too! Until then, I would just say to take the trip if you can, download the app for all your info, pack plenty of tip money and sunscreen, and be prepared to enjoy this wonderful resort.