A Trip to the "Pumpkin Patch"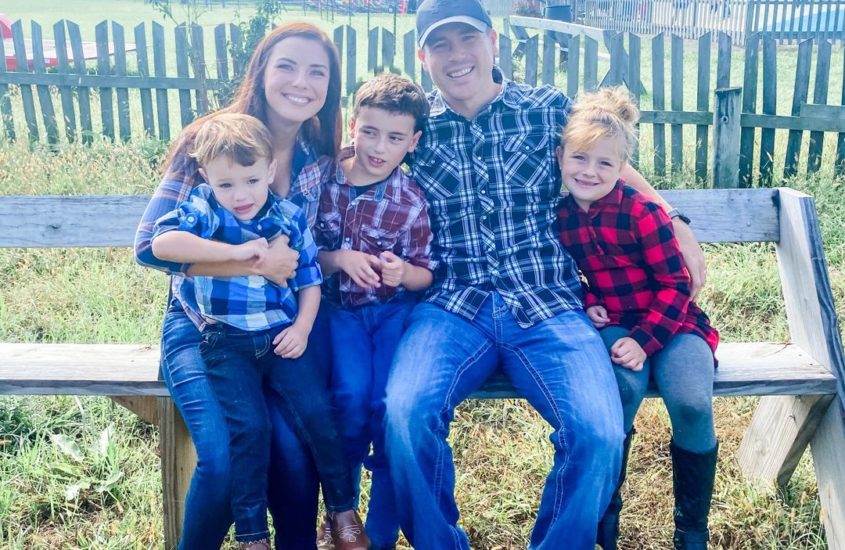 I love the fall. I love the decorations, I love Halloween, playing with the kids in leaves, drinking apple cider, all of it. So, it is not surprising that with all the love I have for the season, we have made quite a few of our own fall family traditions. One of our favorites is taking the whole crew to the "pumpkin patch". Now even though a trip to the "pumpkin patch" is what we call in our family, there is much more than just going to a basic field where pumpkins are grown. And even though it is a tradition, we do not always go to the same place. Around where we live there are a number of places that have similar fall set ups to come and check out. For people that are local I am going to highlight my top three favorite ones we have been to and why we love them so much: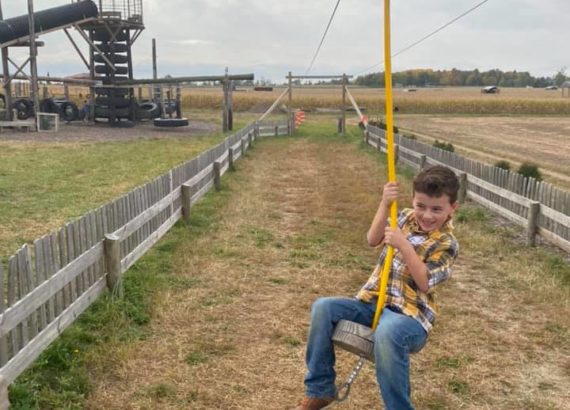 Furry Tail Farms
This place is our current favorite. Located in Waynesfield, OH it is only about a 45-minute drive from where we live. It has a number of things our kids love including: Large homemade slides, small zipline areas, a tractor wagon ride, blow up "jump pillow" area, farm animals to pet and feed, pedal tractors, a barn loft with slide and swings, a corn bin area (great for sensory play), a rock wall and more. The place is not overly big and we have been fortunate that it is never very busy (although we always go right at opening as it seems to pick up steam later in the day).  It is not the largest of these types of farms that we have been to but between the mix of activities and crowd is our current #1.  Everything other than if you want to purchase food and drinks is included in the standard admission price and people over 55 get in free, so you can bring those grandparents along for extra hands without breaking the bank!
Leeds Farms
It has been a few years since we have been to this place ourselves. Located in Ostrander, OH, they are not too far from Columbus. Looking at their Facebook page I imagine it has gotten even better since our last visit with the addition of some new attractions like their pumpkin plunge, which looks like a blast. This is the biggest farm that we have been to and they have a lot of activities just like those listed above and some on a bigger scale (such as a full size zipline you can do at an additional cost). One great thing that I want to highlight about this place is that they host an Autism Harvest Fest Day where you can message them ahead of time and on this particular Saturday (generally coinciding with opening day), they will give free admission to families with autistic children to come visit. We went two years in a row on their Autism Harvest Fest Day and had a blast. The only downside of this particular place for us was on the day we attended it was quite crowded. This meant waiting, which if you've read my other blogs you know is a big work in progress for Damion. There is a possibility that other weekends that do not fall on the Autism Harvest Fest Day are less crowded, but with it being so close to a large city like Columbus I imagine their crowds are fairly big every weekend. Still a place that is definitely worth checking out and I am sure we will go again sometime in the future too.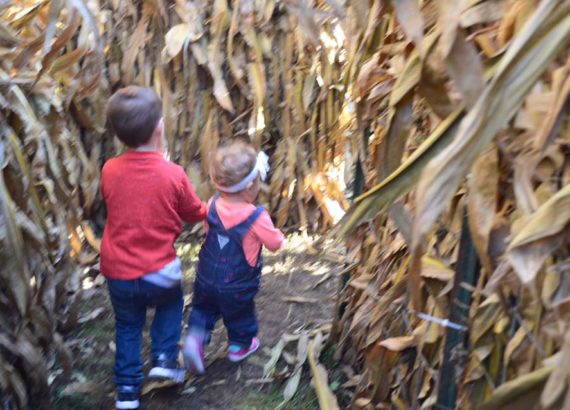 Fulton Farms
Located in Troy, OH, this farm was our go to while our kiddos were younger. This place is done on a much smaller scale than the other places we discussed. They have plenty of pumpkins (piles that you can get some good pictures with), a small wooden train the kids can play on, a very small corn maze for the kids, animals to see, a hayride through the pumpkin patch and a few slides. It was never very busy when we went, and they do have hours during the week as well to help cut down on any crowd. It would definitely be one of my top picks for those with younger kids and toddlers, a good place to start and then work your way up to the larger places listed above.
The places I have mentioned are great, and over the years more and more of these fun farms seem to be popping up, so I look forward to maybe trying out a few more eventually as well. The weather almost feels unreal still for October as we went on our "pumpkin patch" trip this year and could have easily gone in shorts and T-shirts. But even though the weather may not feel like fall, our trip this year was perfect. The great thing about these traditions and fun times with family is it has helped to pass on my love for the season onto my kids as well. When we say we are going to the pumpkin patch, their faces light up now as much as mine does. Hopefully you can find a great pumpkin patch near you and start to enjoy this season just as much as we do.