We have a tradition in our house to do a special one-on-one "birthday day out" with our kids each year as part of their birthday celebration. Damion has always been a thrill seeker, well really this describes all of my kids, and loving thrill, means loving roller coasters. We were gifted a season pass to Kings Island, and about mid way through the summer and another growth spurt, Damion hit the 54 inch mark, meaning he was tall enough to ride ALL the rides. He loved our visits so much so that we even themed his birthday party after Kings Island. But being Ohioans our whole lives, we knew that for a real roller coaster enthusiast, there was another park just a little bit farther away that is the self proclaimed "roller coaster capital of the world." For those of you who don't know, I'm talking about a place called Cedar Point. So, it is no real surprise that this would be our destination of choice for Damion's 9th birthday day out.
Cedar Point is actually a sister park of Kings Island as they are both owned by the company Cedar Fair, meaning that you can find some similarities in how the two parks operate. Both my husband and I have been to cedar point a number of times. Damion has even been there a time or two but so many years back that he could only do the kiddy rides. It is about a two and a half hour drive from our home, making it a possibility for a day trip, but an extra long one if you plan to drive there and back all within the same day. They always seem to be continuously changing and improving the park. The last time we were there was about 5 years ago and even since then they have made a number of changes. Whether you are a first time visitor of Cedar Point, or a long lost return visitor like us traveling with their child on the spectrum, here is what you need to know:
1. Fast Passes
We went on the first weekend of their Halloween Haunt festivities, which made for a pretty packed house. Knowing that this was a special trip and we wanted to maximize our visit, we splurged for the Fast Lane Plus passes which for our visit day rang in at a whopping $200 a pop. The price tag is definitely not an easy one to swallow, but neither is standing in a 2 hour line with our son who has lots issues with waiting. I will say that the fast pass at Cedar Point is slightly less appealing than the ones you get at Kings Island as the majority of them don't have a direct fast pass line all the way to the front. Instead, at Cedar Point most of the lanes helps you bypass just a portion of the line to then be merged in with the regular line near the end. Don't get me wrong, it cuts down the wait substantially but our normal 5 minute or less fast pass wait at KI was more like a 15-20 minute wait for at Cedar Point.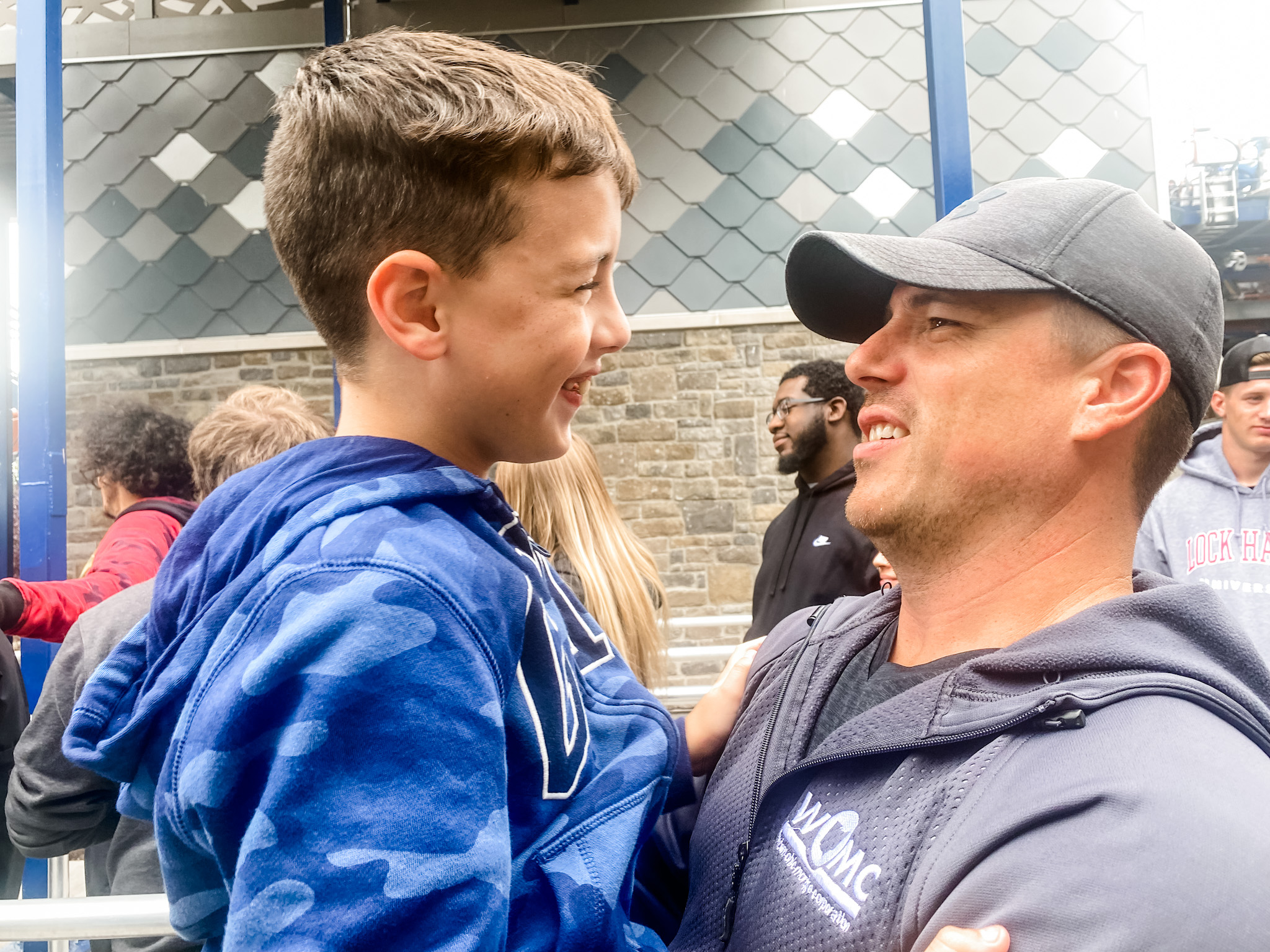 2. Disability Pass
If you purchase a fast pass you likely will not need to get one of these, but if you don't want to pay the extra price tag, this is a cost free option that you can get for your child on the spectrum. Generally you go through Guest Services to get a pass, but they gave us a little bit of a runaround on our visit telling us to visit the FunPix booth instead, but fyi, we found it was not the shared area with fast passes and FunPix (what a mess!). Just like the program at Kings Island, the attendant will ask you a few questions to see if your child qualifies for the pass, if they do, you will get a paper form that allows your child and up to 3 additional guests to utilize the disability pass. The way the pass works is that you will walk up the designated entry for handicap access (usually the exit lane), present the pass to the attendant who will sign it and get you on the ride right away. The attendant then writes down a time on the pass (equivalent to the current wait in line) and you cannot use the pass again for another ride until that time has passed. This basically allows you to do your "wait" after the ride in a space that is not the line. The program is definitely a great option but knowing your child will help you determine how helpful this pass will be for you. In our experience, the wait between rides, even if it is not in line, is hard for my guy who just wants to move from ride to ride. Hence, preparing to spend the extra dough on a fast pass. If you have a child with autism that has zero patience like mine, waiting (no matter where the wait is at) really is the hardest part.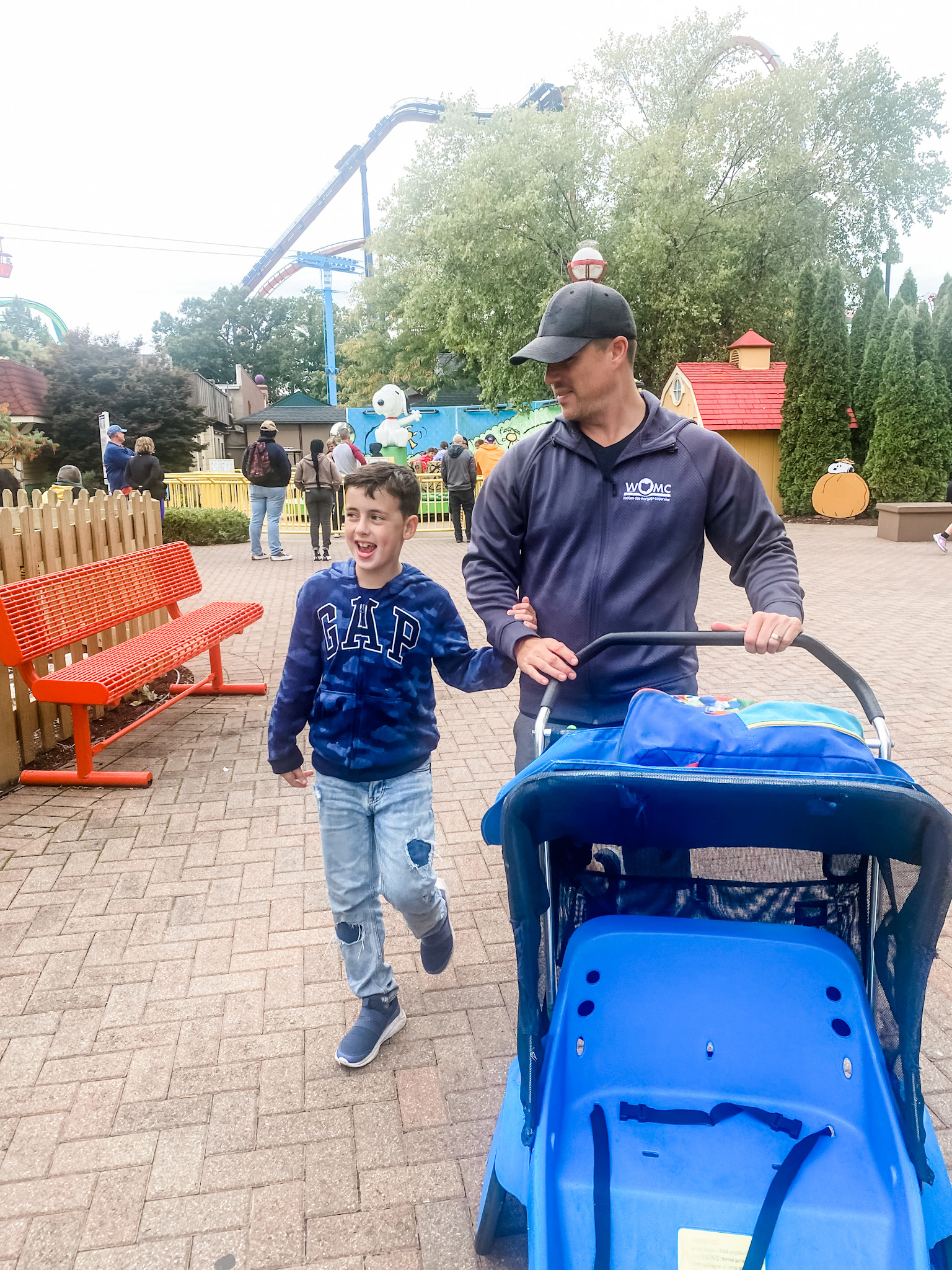 3. Off Season Food Dilemma
As I mentioned previously, our visit was not during what the park would consider it's normal season but was instead during the first weekend of Haunt. Along with the standard entry ticket they offered an entry ticket with a bundle package options as well. One of these options included parking and a single meal plan for the day. It seemed like a good deal so we opted to get for this ticket for one member of our party, assuming we would just share the stops for food which could be accessed every 90 minutes. What I didn't plan for, and wasn't indicated on the map or website, is that not all the dining locations are open during Haunt. Probably not that big of a deal for the average family, but for someone with a very picky eater in their group and not knowing this ahead of time, it made for a bit a a kerfuffle. We had made the mistake of telling Damion we would get him a hot dog, seeing that a few different restaurants (and one that we were walking by soon) had them on their menu. But we came to find that every location that offered that specific item on the menu was closed for the season. This was a big struggle for us. Our only saving grace was that I had packed a bag with some preferred snacks for him which helped us power through until we left the park.
4. Extra Kid Halloween Fun
I had seen on the map that they had a few areas in the park during the day for special Halloween stops for kids. They had a "crazy corn box" where kids could play in a large sand pit filled with corn, trick or treating stations, and something they called a "monstrous mummy pit" where the kids could play in an area filled with bubbles. Damion wasn't into all of what they had to offer, but he sure did like that bubble pit! He liked it so much that he asked to stop by a second time!
5. The Coasters
I will be honest that it in large gap of time since our last visit, I almost forgot just how good the coasters' were. Not to mention the newer ones that our group was riding for the first time. So many fun coasters with a really high level of intensity. I think it would be hard for Damion to pick a real favorite, as we could hear him yelling, "This is FUUUUUNNN" on a number of them. He also made the request to ride a few of them a second time, which thankfully with our fast passes we were able to oblige. We even got seated in the very front row of Valravn, which if you haven't seen before slows you to a stop right at the top of the first hill! It was enough to make even this mom shriek a bit.
All-in-all I would say we really enjoyed our visit to the park. But we know full well that our experience would have been quite a bit different if we didn't fork over the extra moolah for some fast passes. But we picked a pretty crowded day to attend so if you are looking to save a few bucks, I'd suspect maybe a weekday visit through he regular summer season would be a better time to aim for. In the end, even though we ran into a few unexpected hiccups throughout our day, I still have to say, you just can't beat the Cedar Point coasters!