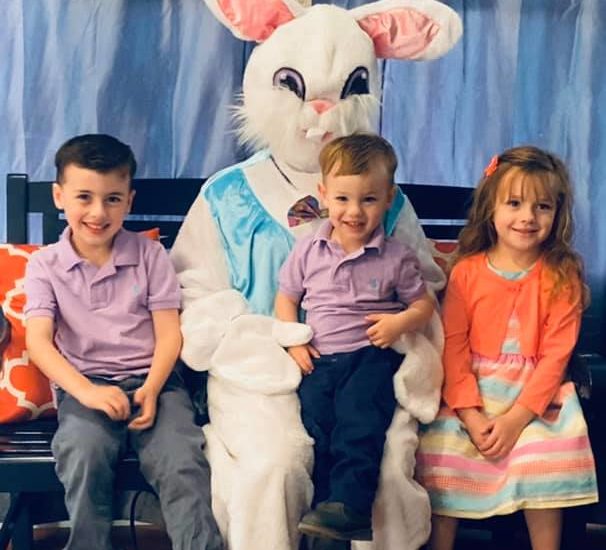 I think every child goes through a phase of being terrified of Santa and the Easter Bunny. All of my kids definitely went through it. But as they grew, meeting the Easter bunny turned from a dreaded activity to one they were really excited for, especially my son with autism. I'm not sure what it is about people in costume in general, but it has become a thing that Damion loves. It doesn't matter if it is Santa, the Easter Bunny, Chucky E. Cheese or anyone between, he just loves seeing them, hugging them, giving them high fives, etc. He doesn't seem to care much about most of the holiday stuff in general the way other kids do. When he gets gifts, he is only interested in opening a couple. He enjoys candy, but he could care less about things like egg hunts. A lot of the Easter holiday stuff is lost on him, but not meeting the Easter Bunny.
Last year we ran into quite an issue for the Easter holiday with all the shutdowns. There were plenty of things that we couldn't do, and I had come to accept that, but my mommy heart was a little broken thinking about missing their faces light up when they got to see the Easter Bunny. The thought of Damion missing the part he enjoys most was a tough pill to swallow. So, I came up with a plan and I improvised.
We had already made a move at Christmas to have Santa come to us. For the past few years, we have hosted a small party with a group of friends who have younger kids too. One of our friends suggested this plan a few years back as we all waited together locally in a VERY long line, with some VERY impatient little ones to meet and take photos with Santa. So, the idea of having the holiday visitor come to us was not overly foreign, the only difference was there were currently no Easter Bunny's to call up and hire. Thankfully, we live in a day and age where internet shopping paired with fast-shipping is both an easy and readily available resource. Searching online, I was lucky enough to find a relatively good priced Easter Bunny costume eligible for prime shipping on amazon that wasn't overly creepy.
When the costume came in it was a bit smaller than I expected, made for about the size of small and short adult woman. We didn't have a large number of people that we were seeing at the time, but we did have a few close family members that we were still in contact with, so we called up our 14-year-old niece and thankfully she was willing to play the part for us.
I will say that buying from amazon didn't provide us quite the same level of costume quality that we had grown used to seeing from our Easter Bunny visits in the past. Our bunny was essentially blind with the headpiece on which meant we had to assist them by hand around our basement. But the kids didn't seem to care or notice. I still got those smiling, excited faces that I was so needing at that time and with a few decorations set out we were able to make a sweet little photo op to capture the memory.
Fast forward to a year later, there are some things that are open to see the Easter Bunny now. Unfortunately, living in the middle of nowhere as we do, seems to have them sort of few and far between. I did find a mall about an hour drive away, but after reading the fine print, they were only offering a "contactless" experience where you could wave at the Easter Bunny and stand a distance in front of him for photos. This option may work for many, but I could already foresee a potential meltdown from a boy that I know would be dying to hug the big fluffy bunny.
Needless to say, once again I have decided to dust off the old bunny costume and set up a personal home visit this year as well. We are planning on doing it the evening before Easter Day and I am hopeful that it will go just as smoothly as it did last year. We are aware this time around that our bunny will be blind in the outfit, so we will be fully prepared to assist.
As I have said in my bio, I love pushing photo ops in general, so even in the years when my kids were terrified, it was still a must that they had to see the Easter Bunny. Just the rules at our house. Many people may be into skipping this step of the holiday, especially if your child is in the stage of being completely mortified at seeing this furry friend. But if you do decide that seeing the Easter bunny in a must, then whether you find yourself with limited to no options to see the Easter Bunny, or if you just decide waiting in lines to do this event is not your best option anymore, having the bunny come to you could be a great move. So, regardless, if the event is torture or pure enjoyment for the kids, just know that improvising your own Easter Bunny visit has never been easier.