Same Sensitive Bunny Experience, New Favorite Location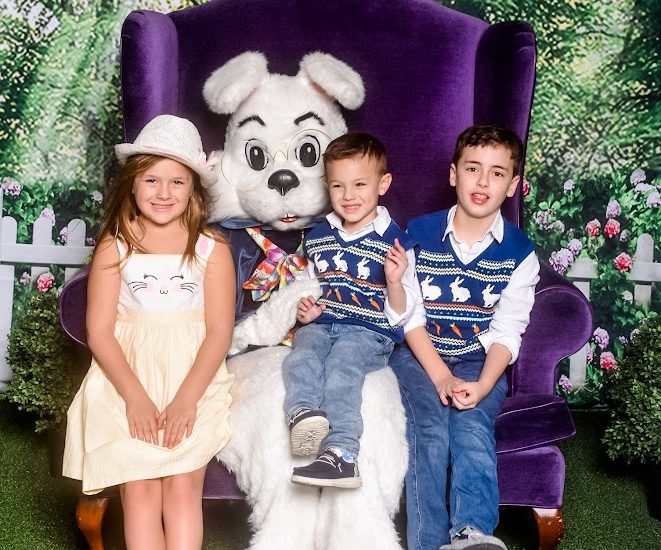 Last year we trialed our first Sensitive Bunny experience. For those who aren't familiar with this program, it is an event that many places hold that allow you to bring your child to see the Easter Bunny in a more sensory friendly environment (i.e., lower crowds, less noise, etc.). To many parents with kids who have sensory issues, you can probably already imagine the perks to an event like this. We were very happy with our first experience last year, which we scheduled through Eventbrite and took place at the Lima, OH mall.
I remembered last year that I had to be on the ball a bit for looking into these types of events since many of them seem to take place a few weeks before the actual Easter holiday. I was planning on just attending the same location again, as a creature of habit we often try to just stick with things that we already know work for us, but unfortunately, I was unable to find the event listed for that location. So, I went in search of potentially similar experiences nearby. I was able to find one about the same distance from us that was set to take place at The Mall at the Fairfield Commons in Beavercreek, Ohio.
The listing for the event seemed very similar to the one that we had visited the first time around. Reservations were still made through Eventbrite, it was set to take place on a Sunday, before the hours that the mall is open, etc. I did see that you did not actually book a set appointment time for this one but were just available to register and could come anytime during the event which took place between 9:30-11:30am. I was a bit worried about this at first, unsure of how popular the event might be and knowing that not having to wait was a big perk the prior year, but my fears were eased as we entered and realized that it was not busy at all.
We arrived around 10am, met the attendant to check off our name from the reservation list, and were able to go see the bunny right away with no wait at all. Like last year's event, they also offered small snacks and juice boxes for all the kids, as well as some tables set up with crafts that were free to complete and take home. Along the tables were also some sensory toys such as pop tubes for kids that enjoy fidget toys to help set them at ease.
A big perk that I was not expecting and was not at last year's event, was that some members of 4 Paws for Ability were present with some service dogs that the kids were free to meet and pet and talk to the company helpers about. I thought it was such a great event to help get the word out to the precise families that the 4 paws program is essentially designed to help. And even for those families who never plan on going down the path of getting a service dog themselves, it was definitely a nice addition to the day to let the kids spend a bit of time with such wonderful animals.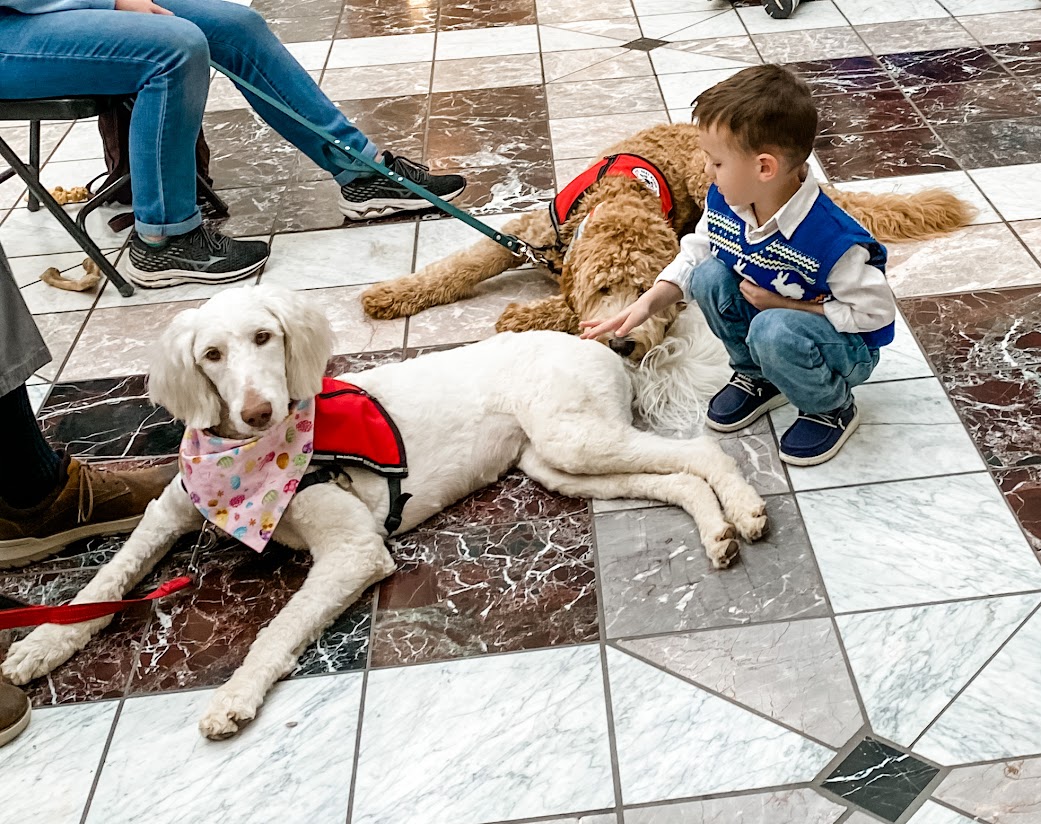 With no wait for any of the areas for the event, we were in and out pretty fast. A few quick pictures (with options to purchase at regular visiting the mall bunny prices), a few minutes to say hello and pet those cute furry friends, and enough time to make a quick craft. All in all, a seamless and fun morning for our family without any of the stress that comes with a normal trip to see the Easter Bunny in a loud and overly crowded mall with long waits and anxious kids. If this type of event sounds like it would be up your alley, you may be able to still find a sensory friendly experience available near you for this year, but for full options on places for the next Easter season, be sure to start searching for Sensory friendly Easter bunny experiences near you about 3-4 weeks out from the official holiday.