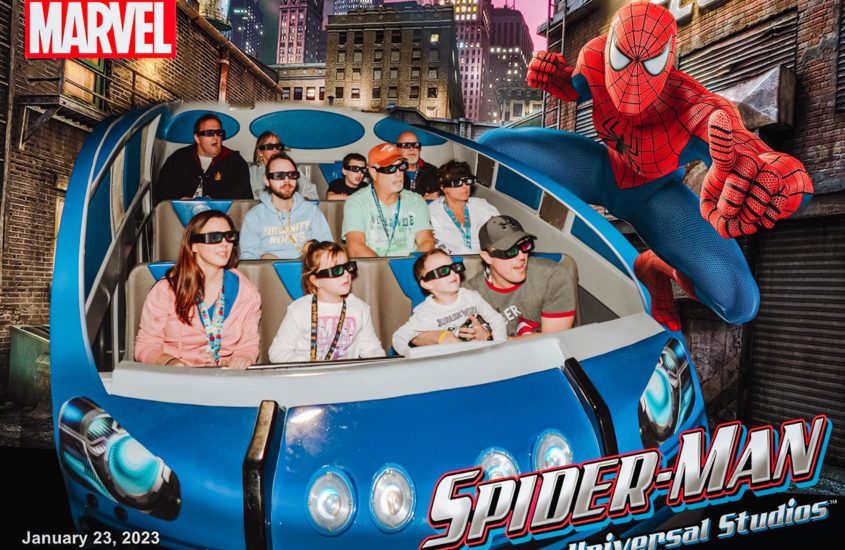 Our recent family vacay included two days at Universal Orlando theme parks. Our whole crew really enjoys the Universal parks, personally, even more than going to their main competition, Disney. This is partly because we tend to be thrill seekers and enjoy higher intensity rides, which as a whole, are found more at Universal. The other big plus for us is how much more go with the flow Universal is in comparison to Disney (Not to get too much into the Disney stuff this week as that will be next weeks topic). But even though we tend to find the Universal parks easier overall, there are still some good things that we learned along the way that I want to share with other families who are thinking about going. And of course, these tips will include some important information for people who are going with kids on the spectrum.
General Info
There are two main theme parks for Universal Orlando: Universal Studios and Islands of Adventure. There is also a water park known as Volcano Bay but since our trip was in January we did not attempt to attend. The two theme parks are close together (within walking distance at the front), and are connected at the back of the parks by Hogwarts Express. You can buy single day passes which will give you access to one park each day, or a hopper pass, which would allow you to access both and is the only way to ride on the Hogwarts express. For our crew, one park per day was more than enough, so we stuck with just 2 single day park passes and visited the Islands of Adventure Park on day one and Universal Studios the next day.
Premier Resort Perks
Our recent trip was a weeklong and consisted of a mix of Disney and Universal Parks, so we opted to stay offsite from both. After already booking an offsite hotel, I came across the incentives given for staying at one of Universal's Premier Level Resorts, which included the HUGE perk of complementary express passes during your stay. For those unfamiliar with express passes, they are a paid for pass that allows you to skip the standard stand by line for most attractions. There may still be a small wait for express passes, but it is advertised to be at least half the standard wait. We already knew that express passes where a must for our impatient crew and had planned to buy them for our two days, so I was definitely intrigued. This perk was so cost effective that I actually heard of people booking "ghost" rooms just to get the express passes. Depending on availability and your party size, this perk may or may not be worth it. For us, we were able to book one night stay at Loews Royal Pacific Resort and with the fact that we received two days' worth of express passes (day of check in and day of check out) with that one-night stay, we actually saved about half the cost of buying two days' worth of express passes outright. Even though we had nights booked at another site, we opted not to just use our one night at the premier hotel as a "ghost" room but to pack a small overnight bag and take advantage of staying the night within walking distance of the parks (there is also a water taxi option available). Staying at this resort also gave us early access into the Islands of Adventure Park.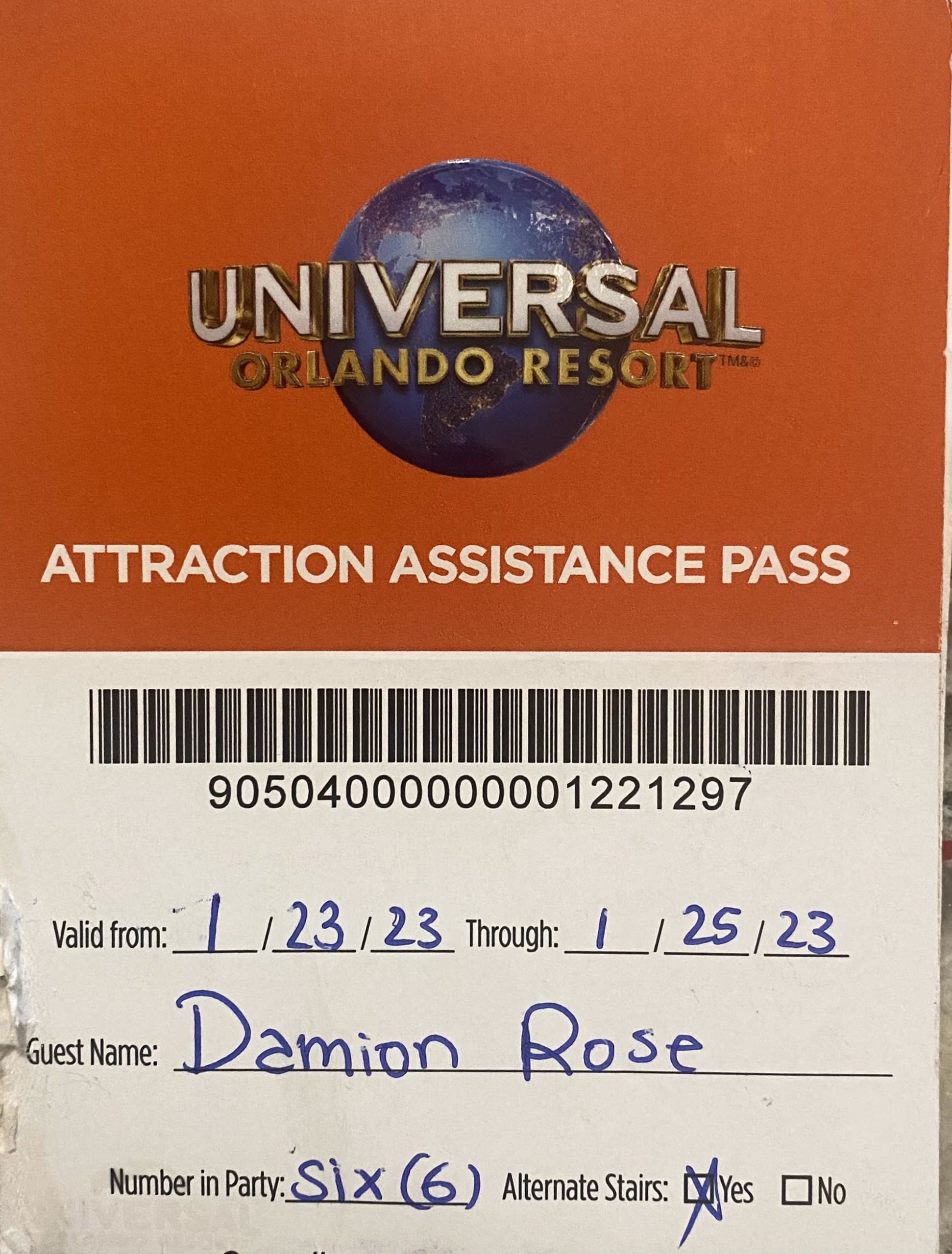 Disability Pass
Most people are aware that places like Disney have disability passes, but there is a lot less talk about disability passes at other parks like Universal. Universal's pass for those who have issues waiting in standard lines is known as the AAP (Attraction Assistance Pass). This pass can be requested at guest services  which can be found at the entrance of each park. You are able to contact guest services by phone ahead of your trip, which may save you a few minutes, but you are still required to bring your confirmation number to guest services to link passes to the account, so I personally didn't find much advantage in calling ahead of time. Since we had early entrance from staying onsite, we went during that time to take care of this pass for our son and were lucky to get there with no wait. Like Disney, you can have up to six people on the pass including the person needing the APP. Unlike the current digital fast pass that you find at Disney, Universal's AAP is a paper pass that requires you to check in with an attendant at the front of ride and they will write down a return time for you to come back and ride the ride. Basically meaning that if you wish to maximize your time, you will need to have a ''runner" in the party that is willing to run ahead and get a return time for the next ride you need to use the pass for. It is not the most ideal system, especially for families who don't have the ability to split apart to have someone be a "runner". I would honestly recommend just budgeting to make sure you have express passes which will give you a similar experience for the majority of the rides. Currently there are only 3 rides that are not included in the purchasable express pass which are Hagrid's Motorbike, Velocicoaster, and Pteranodon Flyers (only for kids under 56 inches and accompanying adults). We used solely our express passes for all the rides and only utilized the AAP for the three that didn't give us that option. Hagrid's was a big favorite for Damion so the APP came in very handy for that ride especially.
Characters
Our boys honestly are bigger fans the Universal characters than they are of the Disney characters. Character experiences are much less of an "attraction" at Universal than they seem to be at Disney which worked well for us. The Universal Studios app gives you some general info on where and when the characters are available to meet. We didn't wait more than 5 minutes to meet any character. We even happened to run into some pop up character meets which I didn't even see on the app but we were pleasantly surprised to find. They had just recently closed down the Shrek and Donkey meet and greet, so it made my son's day when we actually ran into Shrek! Between getting to meet Shrek and SpongeBob SquarePants his day was made.
Height
I will never understand why large parks like Disney and Universal don't have a standard height check system for kids like we find at our local theme parks like King's Island. It would make for a lot less stress and potential meltdowns. Our youngest was right at the 42-inch mark, which is the set height requirement for two of the rides at Universal Studios. But being that my son is young and autistic, he doesn't really understand the how to stand unassisted to get properly measured.  We were required to have him measured three times along the way to board Men in Black (he hit the mark every time). Directly after we went to Escape from the Gringotts (same 42in requirement) where he got yanked out of line quickly and separated from our party right before boarding. He was able to ride after it was all said and done but that was after a lot of hassle and being separated from the other half of our party. During that trial, the associate did tell us that if we went to the parks health and safety area they would measure and give him a card so he wouldn't have to get measured again. It was the end of our day and we were done with the 42in rides so we didn't end up going through this process at that point. But it will be worth knowing in the future and hopefully works for someone else reading this that has a child with similar measurement struggles.
Food/Beverages
You are allowed to bring snacks in with you, no real limits that I saw. We literally had an entire child's backpack filled with snacks as our boys are picky eaters and we weren't sure what food we would have at the park for them to eat. Not to mention it is a big money saver to not be buying park food all day long! We did find that multiple places offered hot dogs which was a win for our boys. We sprang for the refillable popcorn bucket and drink containers. It felt like a big perk that you can even choose Icees as a drink refill option for no additional cost. Oh, and it isn't cheap, but I HIGHLY recommend you get the frozen butterbeer (it's my favorite). It can be found at both parks in the Harry Potter sections.
Other than the mini height fiasco, our days at the parks were nice and went smooth overall. I was disappointed to see so much of the Universal Studios Park under construction and things such as the Mummy and Jurassic Park River rides down for maintenance, but that might just be the price you pay when you target low crowd days or seasons to visit. I hit on some of the biggest tips I could think of but of course there are plenty more little ones that I didn't address. I splurged and bought the photo pass, which doesn't get you a whole lot more than the ride photos but I love having the ride photos when my kids are this age. We went to the wand shop and bought one wand for the kids to share to practice their spells around the two harry potter worlds. I know it probably feels like I am throwing a lot of information at you but don't stress. If you take away anything from this, I would say just know to budget for express passes (they are definitely worth it especially if you have kids that have issues waiting) and run the numbers on a premier resort because it was well worth it for us.  In the end, I can promise it is still far easier than planning your days at Disney.