Disney Disability Access Service (DAS)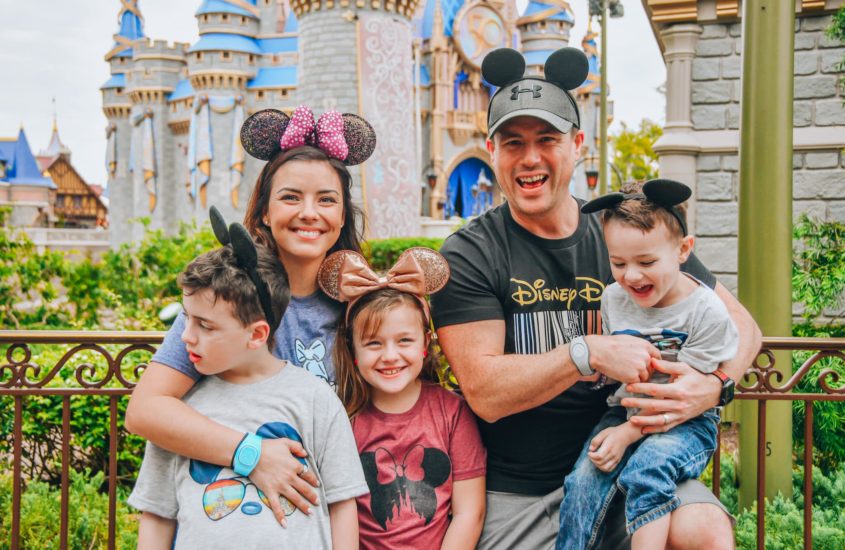 I'm sure many special needs parents can attest that there are a lot of aspects associated with amusement parks that are very difficult for kids on the spectrum. Crowds, Noise, Lines, Heat just to name a few. Disney got into the business of accommodations for their guest with special needs many years ago, seemingly well before many other parks, making them a prime spot to visit for families like mine. But because there are many out there who chose to take advantage of a system that unfortunately has no legal way to request real proof of a disability, their program has had to evolve over the years to try and counteract the high, and potentially fraudulent, demand for the program.
The original program which used what was known as a guest assistance card (GAC). The GAC allowed guests with disabilities and their parties immediate access to attractions. The program was well intentioned but with so many set out to deceive the system, Disney opted to change over to the program they now have in place known as Disability Access Service Pass (DAS) in 2013. The DAS differs from the GAC in that you make a request for a ride and then receive a return time equivalent to the wait of the current standby line. The current DAS system itself has upgraded a bit in the past couple of years moving from a setup that required someone to "run ahead" and receive return times to now all being done via the app. So, for those looking to go to the parks soon, let me break down this information:
Who Qualifies?
The program is designed to assist people with disabilities that have trouble waiting in line. Because nearly all the standby lines are handicap accessible, having primarily mobility issues that require a wheelchair, scooter, or something equivalent no longer qualifies you for a DAS. That does not mean that someone with mobility issues AND other disabilities would not qualify, but solely mobility issues will likely not grant you a DAS pass. There are many people that will ask "does x disability qualify", but the program is not set up that way. It is not based on a set list of disabilities, but instead based on IF the disability causes issues with waiting in a standard line. Ultimately, it is up to the discretion of the Disney Guest Assistance member that you meet with virtually or in person at the parks to make this decision. So, if you are unsure of whether a member of your party will qualify, the best thing you can do is ask Disney themselves.
Registration
Parties are able (but not required) to preregister for a DAS pass 2-30 days prior to their scheduled park visit. The DAS pass is good for the length of your stay or up to 60 days, so you only have to register once for your vacation. Pre-registration is done via My Disney Experience either from the app or online. You will want to have your entire party linked under friends and family list before attempting registration. The DAS pass is linked to the passholder who qualifies and up to 5 additional members of their party, so 6 people total. I believe it to be rare for them to make any exemptions to the number of a single pass, although if you have multiple people with disabilities in your party then you can apply for more than one pass if your party is greater than 6. Once your party list is linked up, go onto the app or site to register, then you will just accept the terms and conditions and once that is complete you will be able to request a chat with a cast member online. I do want to prepare you that it may take a LONG time to be connected with someone to complete this process and wait times will vary depending on when you log on. It is not unheard of to wait 4+ hours if you call during peak times. The person applying for the DAS pass MUST be present so that they can complete the video chat portion of the call. Morning hours during the week seem to be less busy, but if the person you are applying for is school aged then it makes it difficult to call during these non-peak times. My best advice for you would be to call right at 7am EST.  When I say at 7am I mean EXACTLY 7am. Like log on at 6:55 and refresh your screen until the button becomes clickable which could make you one of the first in line. You may still have to wait a bit, but it will likely be a lot shorter wait than if you call at other times. If you don't have it in you to make that long wait just know that pre-registration is not required. You are also able to register onsite the day of your park visit with a guest assistance member. I hear it takes about 5-10 minutes total to complete onsite. You may be asking why so many people try to pre-register if it takes this long? The answer to that is that pre-registration allows you two pre-booked ride return times for each day you have scheduled for the parks. For many, getting these two additional lightning lane passes makes it worth the wait to pre-register.
DAS on the App
It is best to have your whole party linked and have one person managing the DAS pass (bring extra power banks to keep your phone powered up). Very similar to Disney's Genie+ program, once in the app if you go to the "My Day" section and then to the "Tip Board" you will see a list of the attractions that have lighting lane availability, which is MOST of the attractions. I was saddened to find out that some of the less coveted characters are in areas that do not have lightning lanes and therefore can only be seen by waiting in a standby line. Under each ride listed in the Tip Board you will see a standby wait time. If you then click on that ride it will take you to another screen that will allow you to click your linked DAS pass. You will select who in your party will all be listed on the pass. The DAS holder is auto selected and if you have a party greater than 6 you are able to change up the other 5 attendees at each request. If you are a party of 6 or less, you can just select the whole party. Parties with multiple DAS holders can toggle will have to toggle between the two holders before selected additional attendees. Once everything is selected you will receive a return time. Pre-booked return times that you get from pre-registration will have an hour window to use. All other DAS requests give you a time of entrance and you can return any time after that up to park close. Excluding those pre-booked returns, you can only have one DAS return at a time.
DAS at the Park
So, you have everything ready to go in your app. Once you enter the park, DAS will officially become available to you. You MUST be scanned in through the gates, plus maybe a couple minutes of buffer time, for the program to start allowing you to book. Book a ride once inside and when it hits the time for you to ride the attraction your party will go to the line titled "lightning lane (LL)" or possibly still "FastPass" if they haven't gotten to updating the sign yet. There you will see a scanner just like the one to enter the park. You will scan each person into the ride starting with the DAS holder. This pass to scan can be held on your phone, on a card, or on a magic band. My personal preference is the magic bands. If your child has sensory issues like mine and refuses to wear their band, you can double it up on your own wrist to help, just make sure the DAS holder is beside you when scanning their band. The DAS holder MUST be scanned first. Other members will not get the green light if they scan in before the pass holder. Also, the DAS holder MUST ride the ride. If the passholder is a small child that doesn't meet the height requirements for the ride, then the DAS pass will not work for your party. If your DAS holder just decides they do not want to ride the ride, then the entire party must exit the cue along with them. It may seem a bit harsh to some but this provides some additional program protection to ensure that the DAS pass is not being abused.
Stacking DAS and Genie+
There are two ways to get passes to lightning lanes. One is DAS and one is Genie+. DAS is free and is only available to those with disabilities who qualify for it. Genie+ is an at cost service available to all guests at Disney. If you aren't familiar with Genie+, be sure to check out last's weeks article here. A lot of people ask if you can or should get both. You can still purchase Genie+ alongside your DAS pass and do what they call "stacking" when applying for rides. Essentially meaning that you can request return times through DAS as available and Genie+ as well. It can be a little more confusing to manage since you are jumping back and forth, but since both can be managed from the "tip board" on the app, it isn't all that bad. Then basically just book all the return times available through both programs, maximizing the rides you will be able to access during your park day. There is some basic strategy that can be applied as well. My best advice would be to try and get a big-ticket return on your Genie+ early in the day and use DAS for the "lower wait" rides. Then switch it up as Genie+ starts becoming unavailable for those big ticket rides later and start using DAS for those and Genie+ on whatever is left to snag. Obviously trying to schedule rides in the same general area so you are not running from one end of the park to the other and back again is important as well. DAS can be used on rides that have "individual lighting lanes (ILL)" that are generally purchased al a carte as well. So, if you want to ride something like Rise of the Resistance and you don't want to pay the extra dough for an ILL, and obviously know that a two hour wait is not doable, then prioritize your DAS for these attractions. Whether you NEED to have both DAS and Genie+ is really up to you. For my little thrill seeker who is always on the go and wants to be on rides at all times, having both was the best option for us.
For people that are used to the already involved systems that go along with a park visit to Disney nowadays, then DAS will seem par for the course. The program sure doesn't have the ease of the past GAC days, but with any too good to be true program there will always be some out there that try to take advantage and ruin it for the people that actually need it. I will say that the improvements to the current DAS to not have to do "run aheads" are much appreciated by families already struggling through a park day with a special needs child. I personally can't think of a whole of lot of additional ways to improve the current DAS system other than finding ways to lower pre-registration times, although I have a sneaking suspicion that the wait times are meant to be a bit of a deterrent due to the very high demand for the program. All in all, the system is probably as good as it can be under the circumstances. As a family with a child with autism who cannot do those long waits in line, accommodation systems like DAS are truly essential. We honestly would not even consider such a visit if they did not have a system like this in place. If you are a family like ours that needs this type of assistance, then hopefully this tells you all that you need to know about the DAS program.