Anyone who knows me can attest to the fact that I love all things fall. One of the many things that falls into that category is going to check out the local places that host fall events which are fun for the whole family. We have been to many different places over the years (feel free to check out my past reviews of Crossway Farms and a few others that we take a look at in A Trip to the Pumpkin Patch). We still plan on hitting up a few of our annual favorites this month, but decided to go check out a local farm that we haven't been to for a few years: VanDemark Farms.
VanDemark Farms has been around for a long time now but has really built up from what I remember over the last few years. These are some of the fun features that we got to experience during our visit: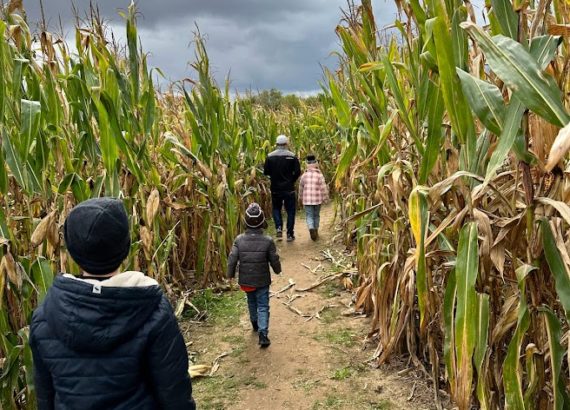 Lost land corn maze
This is the feature that I would consider the foundation of the farm as I remember going to check out the maze many years ago before children were even a thought in my mind. Basically, the corn maze is a large field of corn carved into a labyrinth that from aerial view actually creates a big picture or design. For this years experience they had numbered checkpoints that you could attempt to find, and if you located them in order, it told a story.
Petting zoo
Not a large area but in the barn you will find a few calves, some donkeys, and some baby pigs, outside roaming are a few more animals including some cows and a horse. Also, inside the barn you will find a small corn pit area. It wasn't as fancy as some of the corn pits that we have seen at other farms but was a nice little extra, especially if you have small kiddos.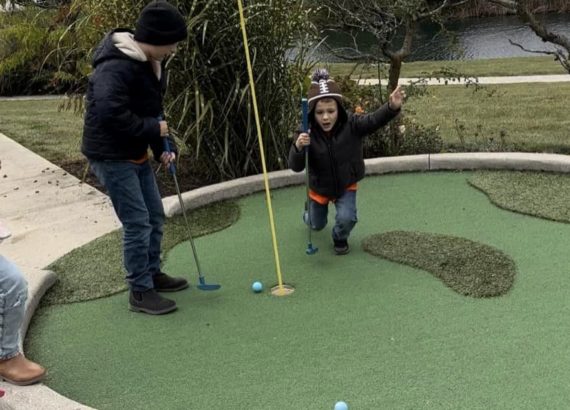 Mini Golf
The 18-hole course was another really nice feature added to the experience and was included in general admission. This is also a perk that we have not seen at the other local farms we visit in the fall so it was a nice change of pace for this outing.
Inflatable Slide
I don't know about your little ones, but my kids never seem to outgrow their love for inflatables. This one is probably a little large if you have toddler age kids, but for mine that are 5-10, it was a big hit. Thankfully the crowd was fairly low at the time of our visit, so they had plenty of uninterrupted turns to climb up and go down the big slide.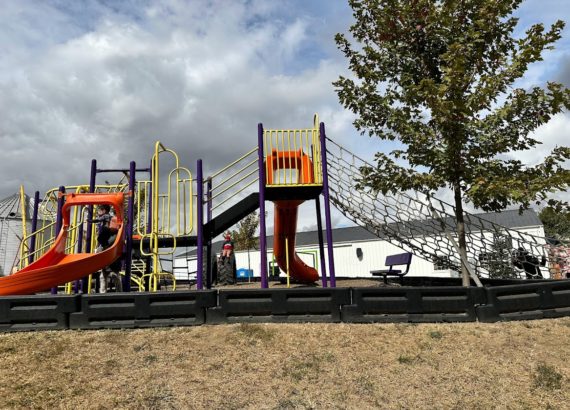 Play zone
Right as you walk in you will see a fun, decently sized playground area for the kids to enjoy. Right near it you will also find a hay pyramid that the kids can climb on too.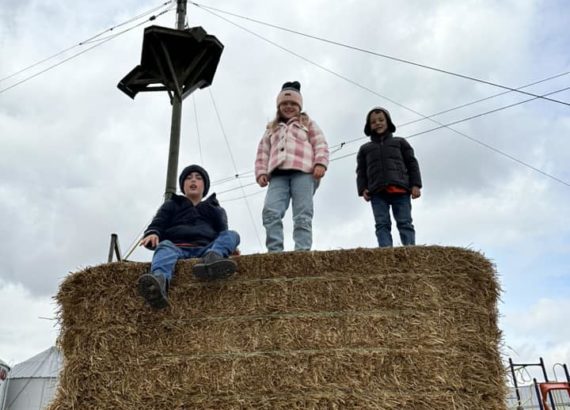 Hayride
Always a fun fall thing to do but unfortunately our older son has never been a fan of hayrides. Generally, they just involve too much waiting to get on, sometimes crowded and not overly thrilling are not a good combo for him. So, we skipped it ourselves but didn't want to forget to mention the feature for those families that would be interested in partaking on the ride.  
Currently, VanDemark Farm's is open Friday Evenings and on Saturdays and Sundays. All the stuff mentioned above is included with the $12 general admission and 5 and under are free! For an extra cost they also offer a giant swing and a zip line. We didn't get a chance to check out the big swing ourselves (we weren't sure our boys would do good waiting as it seemed to take a bit to safely get hooked up). And none of our kids met the height requirement of 4'9" to participate in the zip line. All of our crew seemed happy with the features that were included at no extra cost, so that is what we stuck to for this visit. It may not replace our favorite pumpkin patches that we visit every year, but this was definitely a fun local place to check out and spend our Sunday afternoon, and I'm sure we will be back in future years. If your family is in the Sidney area during the weekend be sure to check them out for yourselves.
For more information from the company themselves be sure to check out VanDemark Farm's website or their Facebook page.